Amy Studebaker Earns Four Architect and Designer Awards
At a reception held at the Ritz Carlton last month, the talents of Amy Studebaker and her team were rewarded with four Architect and Designer Awards presented by St. Louis At Home Magazine. An editor and experts in the field of architecture and interior design served as judges on this year's panel, selecting winners from a field of 283 submissions.
Join us in congratulating the team at Amy Studebaker Designs on their awards in the following categories: Bathroom (Less than 150 square feet),  Master Suite, Children's Room and Home Office/Library.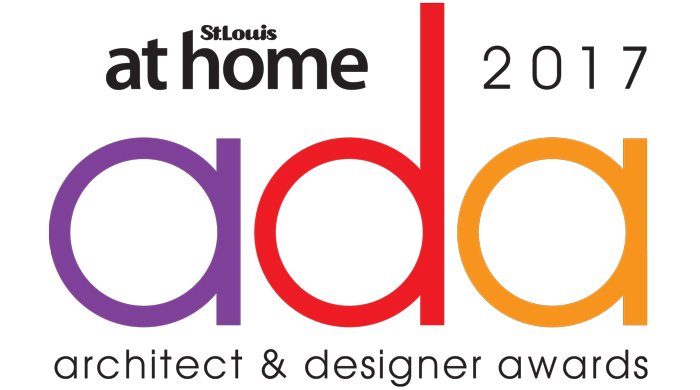 BATHROOM (LESS THAN 150 SQ FT) Amy wanted to use a piece of furniture for the vanity that would bring warmth and interest to this guest bath. She added, "We wanted a vintage quality in the design and were inspired by old washstands; therefore, we designed a simple, yet elegant, top portion with corbels and a shelf for the vanity." Finishes used to create the coastal ambiance included shiplap, round (almost porthole-like mirrors), and a navy and white ticking stripe dhurrie rug.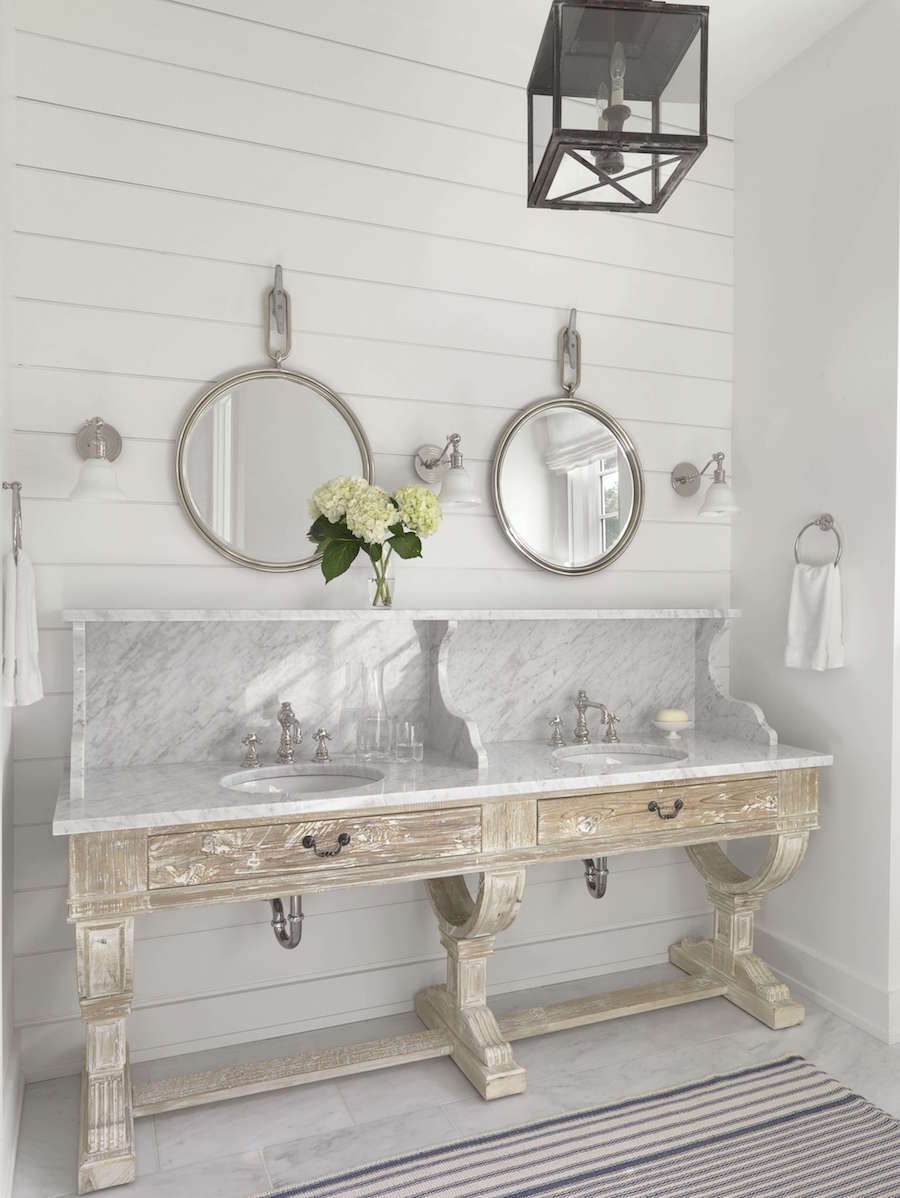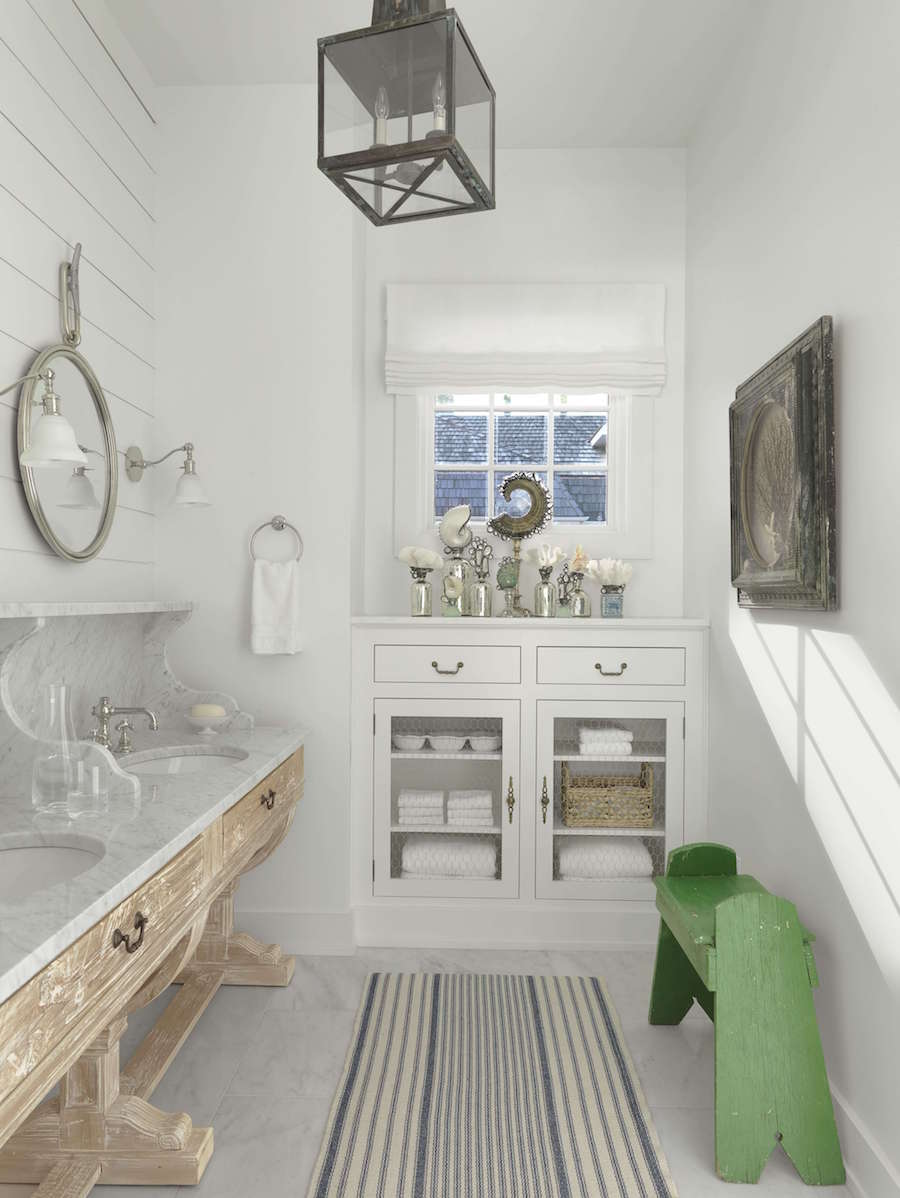 MASTER SUITE To give her client the requested feeling of being in the trees, she kept the focus on the waterfront view by layering whites and neutrals with the shiplap walls, white linen drapes and bedding, and light wood tones. The neutral and white palette continued into the Master Bathroom by layering white walls with white drapes and white marble.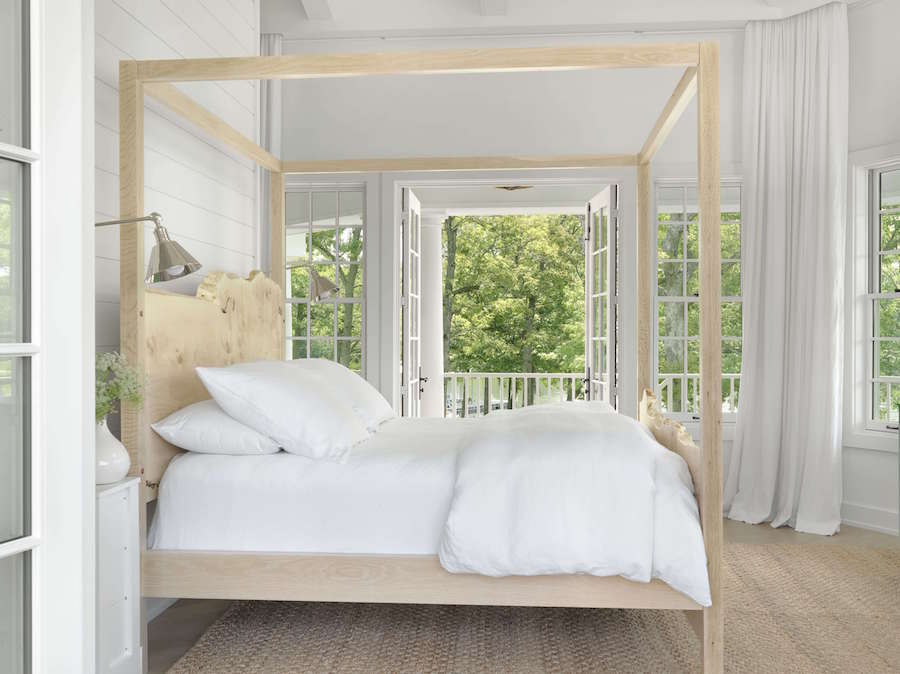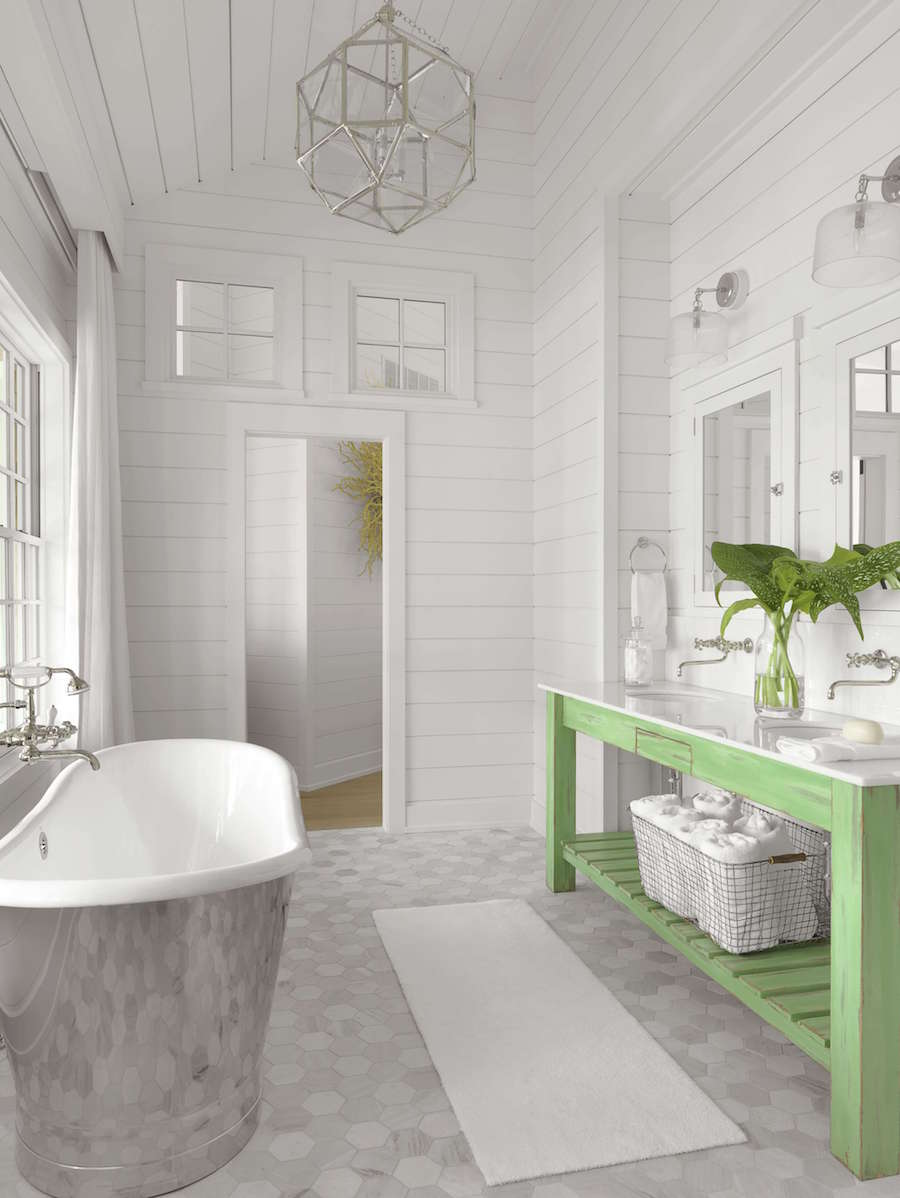 CHILDREN'S ROOM The clients desired a space where their two girls could have friends sleep over, but also have enough space to hang out, do their nails, and have girl time. In keeping with the overall theme of the home, Amy used a white on white color scheme to create texture with white walls, white linen drapes and the layering of the white bamboo swinging chairs and white linen bedding.  To keep it youthful and fun, she incorporated a bright turquoise, watermelon, and sunshine yellow striped dhurrie rug. A shabby feathered pendant light added another whimsical touch to the space. It was also important for the client's daughters and friends to be able to giggle and talk into the night, so Amy designed the bunk beds with an opening on each level.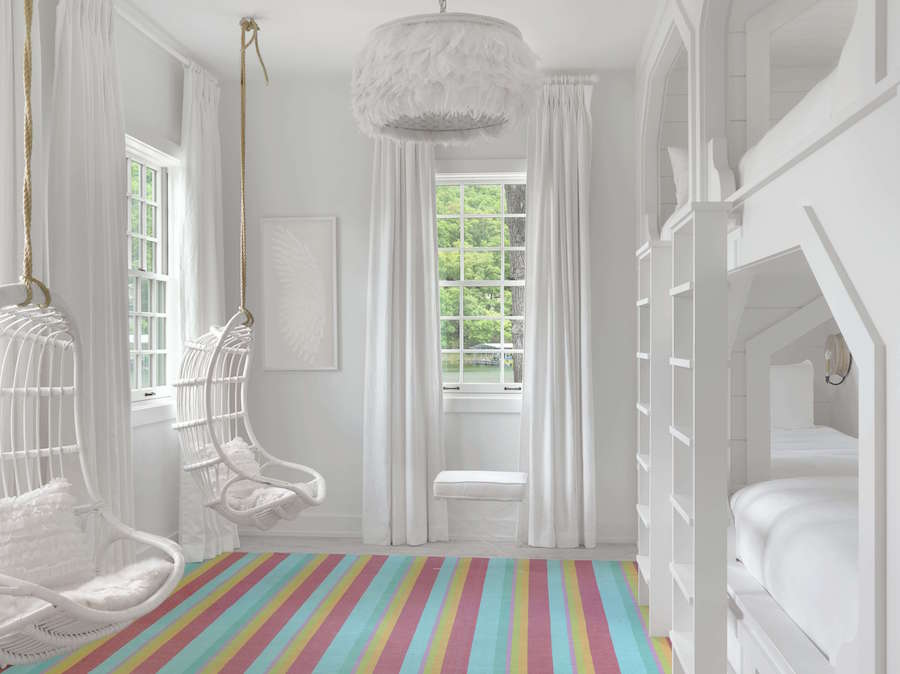 HOME OFFICE/LIBRARY An important aspect of this room for the clients was to keep the focus on the view of the water while they worked or relaxed with a book in the space.  Amy placed the desk facing the windows and kept the color scheme very neutral by layering whites throughout the room. The walls, furniture, light fixtures, and accessories are finished in natural wood tones and shades of white.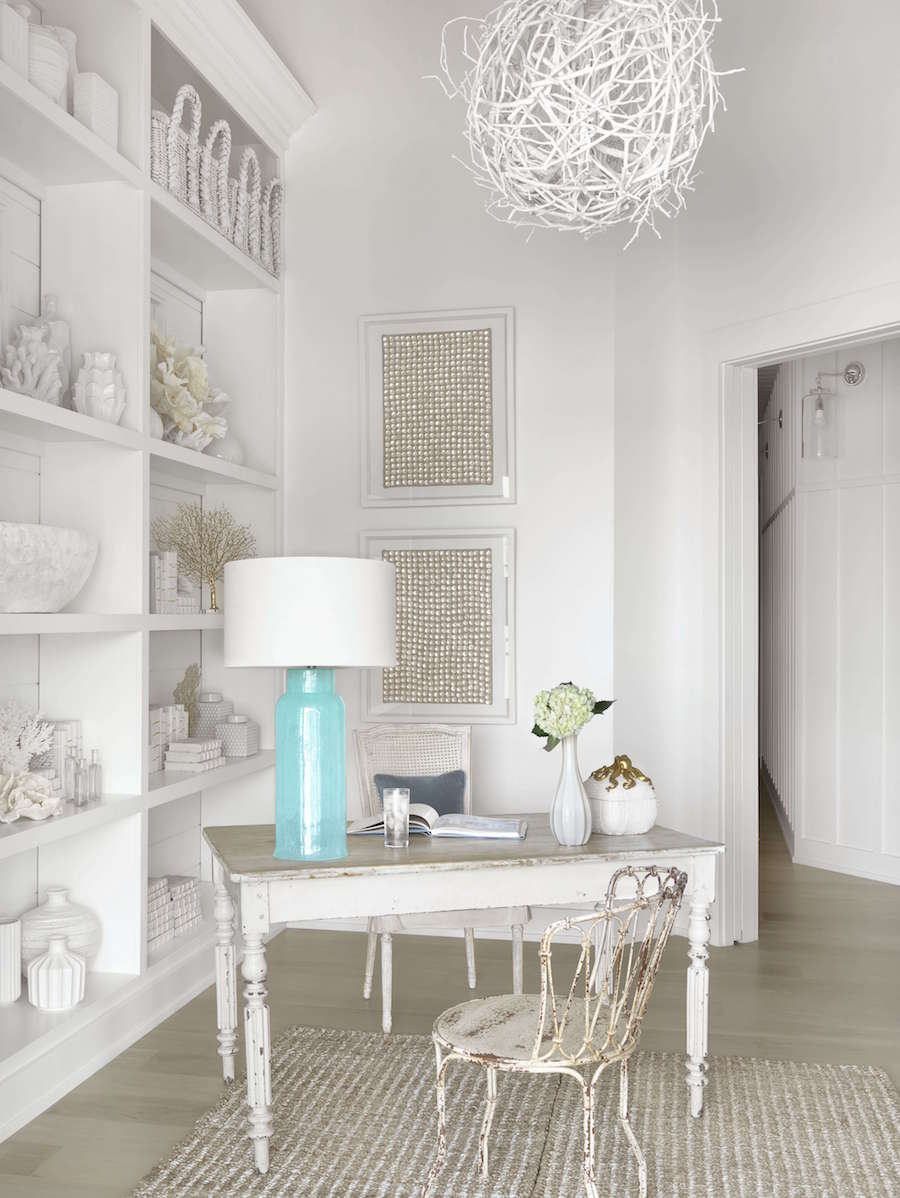 For information on any of the product pictured or to discuss your interior design needs, contact Amy  Studebaker Design at 314.458.5339. See more of Amy's work at amystudebakerdesign.com.
Photo Credit: Alise O'Brien