Motorized Window Shadings and the Automated Home
St. Louis interior designers recently gathered at Walbrandt Technologies for a sold-out CEU presented by Crestron. The topic was window shadings—motorization, design considerations, and the process and benefits of fully integrating shadings within the automated home.
For designers who were unable to attend, and homeowners who are curious about the benefits of automated, motorized window shades, we've compiled a short list of our top 10 takeaways from the Crestron event.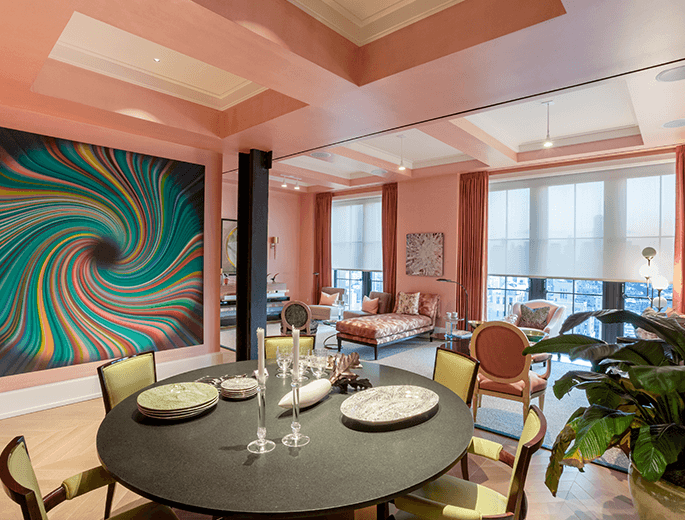 1. Heating & Cooling – Homeowners can expect to save year-round on heating, electrical and cooling costs by opening and closing shadings regularly.
2. Aesthetics – Ensures windows look beautiful inside and out.
3. Property Value – Window shadings are an investment in your home.
4. Time – For maximum efficiency and light control, you should be opening and closing window shadings regularly throughout the day. Save time, control them all with the touch of a button.
5. Privacy – Select fabrics for desired privacy and close them—even remotely—while you're away or at night.
6. Versatile Designs/Styles – Systems include Roman and roller shades, skylight and panel tracks. Work with your own fabric or choose from a range of specially designed Crestron fabrics.
7. Protection – Consider your interior investments, from furniture and artwork to flooring and draperies. Prevent fading and damage to interior finishes by protecting your interior from sunlight.
8. Innovative Fabric Selection – While you can certainly provide your own fabrics, Crestron offers fabrics deemed environmentally safe, lead free, PVC free, recyclable, mold and bacteria resistant as well as fire retardant.
9. Reduce Glare – Specific fabrics and colors work best to reduce glare, a crucial benefit to shadings in rooms with large television screens.
10. Designer Solutions – A range of fascias and endcaps are available to conceal hardware and blend seamlessly with surrounding interior finishes.
Stop in Walbrandt Technologies to see automated shadings in action. The showroom is equipped with a Crestron system and Aaron and his team can show you how to control the room right from your smartphone in conjunction with your lights, music, thermostat, security and AV systems. Call or come by Monday through Friday.