Rustic Contemporary Kitchen by K Taylor Design Group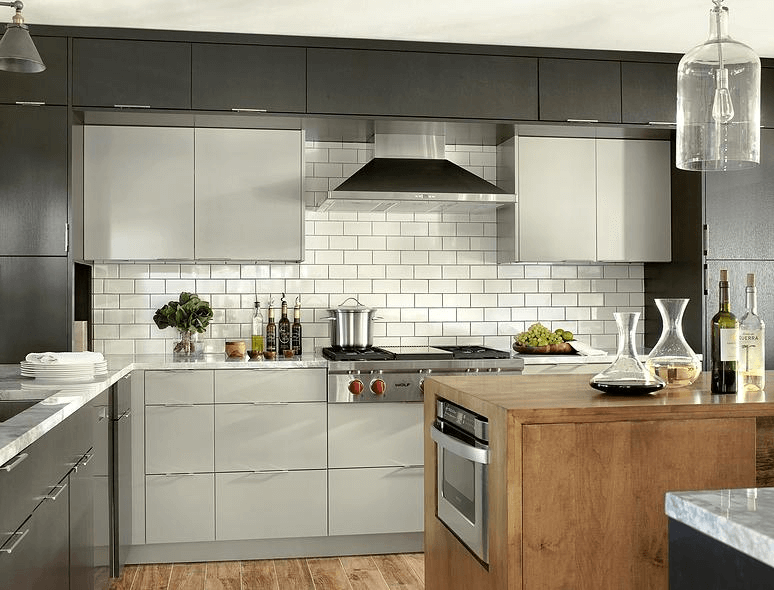 This kitchen design for a young Ladue couple won the K Taylor Design Group praise not only from their clients, but from the prestigious panel of judges at this year's At Home Magazine Architect & Designer Awards. The First-Place design began with the reconfiguration of the couple's Mid Century home, moving walls, redefining spaces and changing the direction of the original kitchen.
DESIGN DETAILS
The result was a rustic contemporary kitchen. Designers Kim Taylor and Leah Jarrell  worked to blend a unique mix of styles and materials including reclaimed wood, quartzite, maple, subway tile and modern slab doorstyles. The maple island brings warmth to the heart of the kitchen, but with a modern twist—the waterfall application is seamless, interrupted only by the inset microwave. Would-be subtle, white subway tiles add to the semi-industrial style statement with the addition of dark gray grout.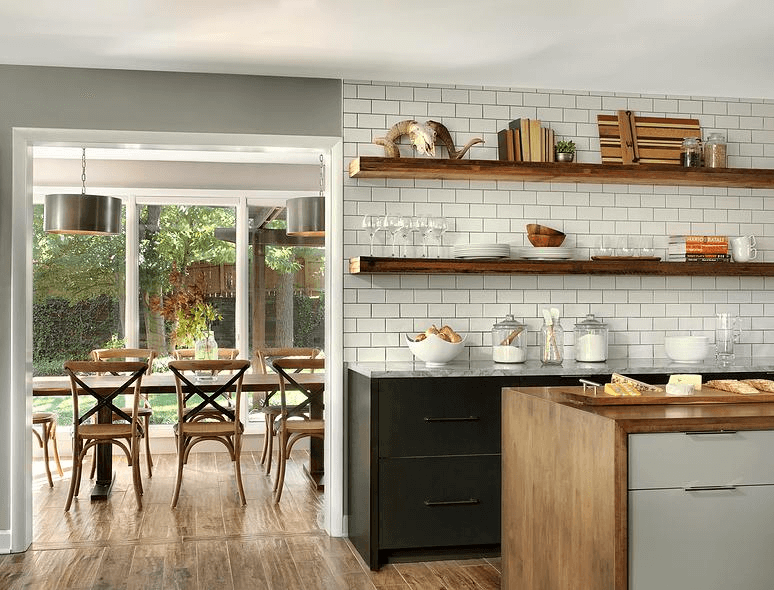 RECLAIMED WOOD DETAILS
Yet another modern application of a more traditional material can be seen on the wall opposite the dining room. Floating shelves were constructed of reclaimed wood, complementing the couple's dining table, also crafted from reclaimed wood and a treasured wedding gift from a close friend.
LOW-MAINTENANCE FLOORING
As pet-lovers, maintenance was a key factor when selecting flooring. Easy-to-clean and durable, Kim  and Leah chose a porcelain tile that mimics the look of hand-scraped wood throughout the home's kitchen, dining room and nearby mudroom.
A COOK'S KITCHEN
You've likely noticed that the use, style, size and functionality of drawers have changed in recent years, and this design serves as an excellent example of this evolution. In our discussion with Kim and Leah, they recalled the popularity of pull out shelves within base cabinets, which paved the way for the current trend of deep, wide drawers complete with organizational systems. For the wife, a culinary student, and with the direction of Leah, a gourmet home cook in her own right, special considerations were given with regard to appliances and cookware that would prove efficient while making the most of every inch of storage space. A Wolf cooktop was chosen to allow space for ample pot and pan storage below. Adjacent drawers house spices and finger pull drawer hardware allows for quick, easy access.
SOURCES
Sub-Zero and Wolf appliances used include the cooktop, range hood, microwave oven, wall oven and refrigerator drawers, all from AUTCOhome. Plumbing fixtures were purchased through Premier Plumbing Studio.
For more information on the products seen in this post, or to discuss your design and renovation needs, contact K Taylor Design Group at 314.610.7288.
Photo: Alise O'Brien